Hanford NRDA Update for Tribal Gatherers - Fri Oct 20th 2023
October 20 at 9:00 AM - October 20 at 11:00 AM
Knowledge Spooktacular! Hanford NRDA Update for Tribal Gatherers - Fri Oct 20 2023
Posted in: Natural Resources - Community Event
During this Spooky Season, First Foods Policy Program (FFPP) invites CTUIR Gatherers, Hunters, and Fishermen to hear about updates for the Hanford Natural Resource Damage Assessment (NRDA) negotiations, and learn more about projects associated with these proceedings! You are invited to come learn and share your perspectives and guidance on project development.
When: Friday, October 20th 9-11 AM
Where: Nixyaawii/Mission Longhouse on the Umatilla Indian Reservation (UIR)
What to Expect: CTUIR Dept of Natural Resources staff will be sharing information about the Hanford Nuclear Reservation, the NRDA process and progress, and other projects associated that involve CTUIR Tribal Gatherers. 
This event is for the whole family, and kids activities will be provided!
* Due to sharing of sensitive information, this event will not provide a virtual attendance option, and will not be recorded *
For more information or questions, please reach out to the First Foods Policy Program at (541) 429 - 7247 or FirstFoods@CTUIR.com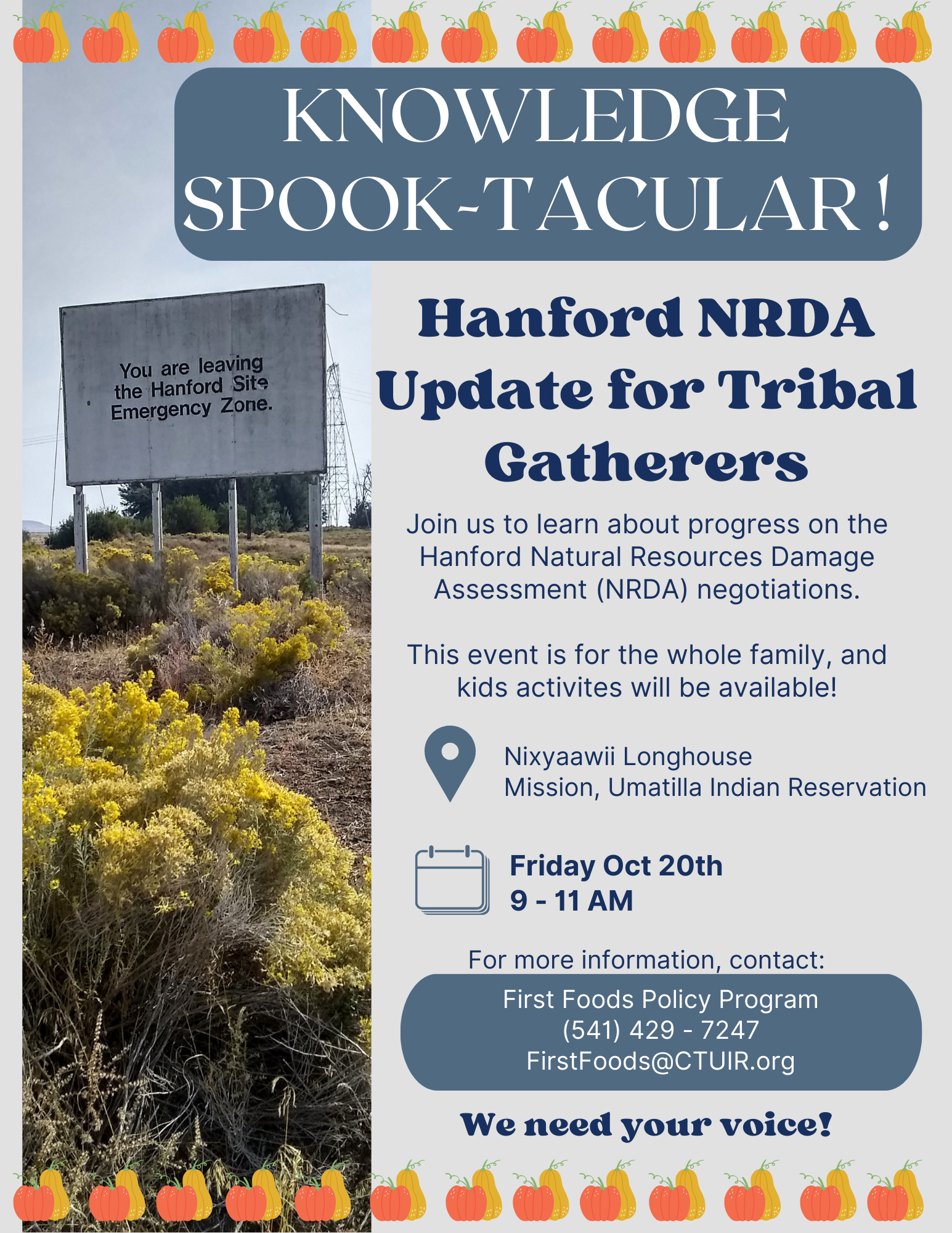 Event Location
Location: Nixyaawii Longhouse, Mission/Umatilla Indian Reservation
Event Host
Hosted by: First Foods Policy Program
Phone: 5414297247
Email: firstfoods@ctuir.org