ODEQ PCAP Climate Resilience Listening Session - Nixyaawii Governance Center Oct 6th
October 6 at 9:00 AM - October 6 at 12:00 PM
Climate Resilience Listening Session - Nixyaawii Governance Center Oct 6th
Posted in: Natural Resources - Community Event
We want to hear from you!

Friday Oct 6th 9 AM – 12 PM
In Person at Nixyaawii Governance Center (NGC)
46411 Ti'mine Way ~ N'ciwana & Walla Walla Conference Room (L101A)
Virtual: Click here on Fri Oct 6th at 9 AM to join the event
CTUIR has been working with the Oregon Dept of Environmental Quality (ODEQ) to organize community listening sessions for Priority Climate Action Plan, as part of the EPA's Climate Pollution Reduction Grant (CRPG). These listening sessions aim to highlight carbon removal and sequestration strategies that are already happening in our area, and to ask communities what is and isn't working, what could be expanded, and what barriers these efforts face.
This In-Person and Virtual Listening Session is open to everyone, and kids activities are provided to in-person participants. Please feel free to share this invitation with anyone who may be interested, we are looking forward to learning and sharing with you! For more information, please visit the CTUIR Events page: CTUIR - ODEQ CTUIR FFPP Climate Resilience Listening Session - Nixyaawii Governance Center Oct 6th
or the  CTUIR Climate Adaptation website: CTUIR - Climate Adaptation
If you aren't able to make it to our in-person listening sessions, we have our Virtual Rotunda set up with posters that will be on display in person. The Virtual Rotunda is found here:https://miro.com/welcomeonboard/eHJGNDliSXU1ak9LeG9YM0tZRHBkMDh4Q0VSVGFOUlhQSkhadnBDU1BzdDd3RHZ2amo2anh6Y0prUDVzQzNIWnwzNDU4NzY0NTY1NzIxMjI0MjcxfDI=?share_link_id=603089584823 
Please let us know what you would like to see more or less of in our area! We also have a quick video tutorial to show how to interact with this Virtual Rotunda: https://youtu.be/Ylwp5_kpQsQ 
Event Agenda
We'll have posters set up in the NGC Rotunda (and have the virtual room open) by 8:30 AM, come early to browse info and chat!
Speakers in N'ciwana & Walla Walla Conference Room (L101A), posters in NGC Rotunda
Panel One Presentations : 9 – 10 AM

Break for Discussion etc (30 minutes)

Panel Two Presentations : 10:30 – 11:30 AM
Event formally concludes at 12 PM, but we'll stick around to chat if you want to!

We'll leave info posters and input stations in NGC rotunda thru Wed 10/11, drop a comment :)
Virtual Attendees:
We will work hard to make sure your virtual attendance is able to fully participate in this event. We encourage virtual participants use the Chat to its fullest, discuss with other virtual attendees, and indicate a desire to speak to the group by using the "Raise hand" function. We are excited to share with you! Please find the virtual meeting link below:
_______________________________________________________________________________
Join on your computer, mobile app or room device
Click here to join the meeting <----- Click here on Friday Oct 6th to join the conversation virtually!
Meeting ID: 226 660 382 911
Passcode: Jds9gn
Download Teams | Join on the web
Or call in (audio only)
+1 872-242-7793,,454104167#   United States, Chicago
Phone Conference ID: 454 104 167#
________________________________________________________________________________
Please let us know if you have any questions or concerns!
We can be reached at the First Foods Policy Program, phone: (541) 429-7247 and email: FirstFoods@CTUIR.org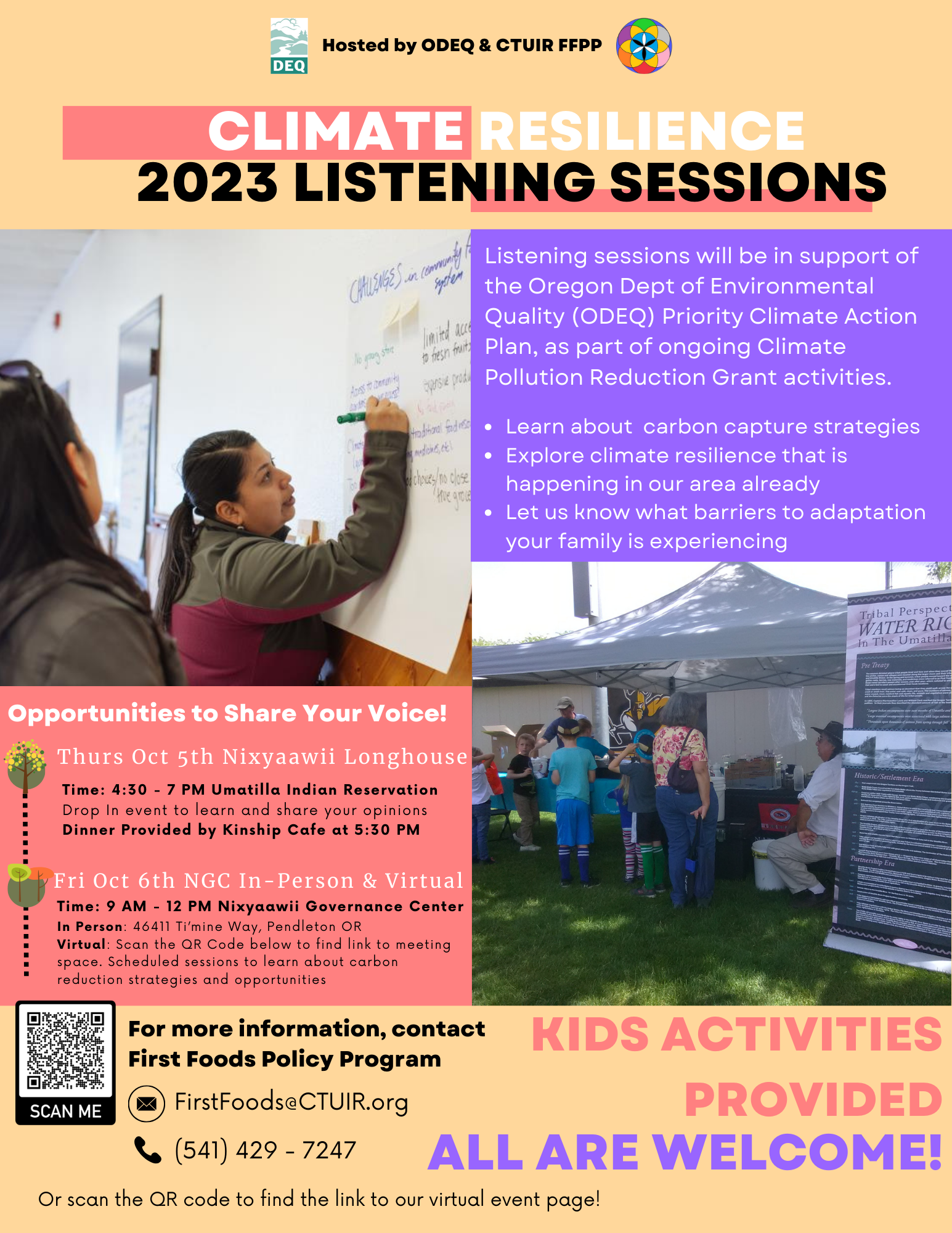 Event Location
Location: Nixyaawii Governance Center and Virtual
Address: 46411 Ti'mine Way, Pendleton OR 97801
Event Host
Hosted by: First Foods Policy Program (FFPP) Climate Adaptation
Phone: 5414297247
Email: firstfoods@ctuir.org