A group of six Master of Urban and Regional Planning (MURP) students from Portland State University (PSU) are partnering with the CTUIR to plan a multi-use trail that will improve walkability and connectivity within the community. The trail will encourage physical activity and enable people to enjoy the natural environment of the reservation.
Nixyáawii Watikš aims to improve access to essential services, promote economic opportunities, and preserve the community's cultural and environmental heritage.

We Want to Hear from You!
From late March to early May 2023, the group will be conducting engagement activities with the CTUIR community to gather feedback from residents, review alternative routes, and suggest an alignment that best meets community needs.
Take Our Survey
If you're interested in providing feedback on the proposed trail plan, please take our survey here to share your thoughts.
Find Us at An Event
The PSU Team will be traveling to the Umatilla Indian Reservation to reach out to the community and hear from you: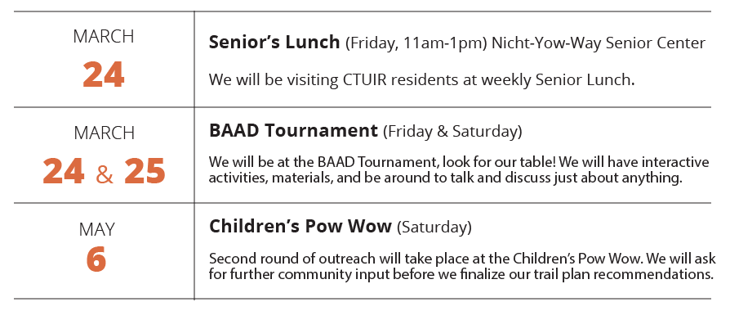 Other Questions or Comments?
For other questions or comments, you can contact Dani Schulte, the Transportation Planner at danischulte@ctuir.org or by phone at 541-429-7525.
Project Updates
Check back here for updates on the project as the PSU students!